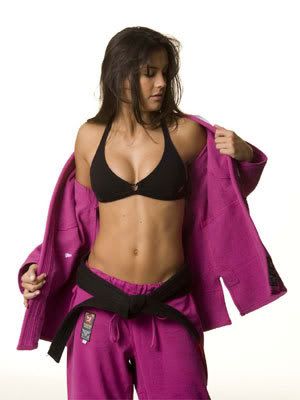 ADCC has now
announced
the complete list of competitors in the women's divisions. Never really followed women's grappling although no doubt it will be exciting this year as the level of competitors continues to improve. Kyra Gracie is perhaps the most recognizable name on the list together with Cristiane Cyborg, the current Strikeforce Champion. Actually I thought Cyborg was only a bjj purple belt but perhaps she has other grappling experience and certainly her mixed martial arts experience gives her the right credentials to be able to compete.
Females +60kg

1. Hannette Staack. USA
2. Penny Thomas. USA
3. Hitomi Hiraiwa. Japan
4. Rosângela Conceição. Brazil
5. Ida Hansson. Sweden
6. Shanti Abelha. Denmark
7. Lana Stephanac. USA
8. Cristiane Cyborg. USA

Females -60kg

1. Kyra Gracie. Brazill
2. Sayaka Shioda. Japan
3. Megumi Fujii. Japan
4. Michelle Tavares. Brazil
5. Laurence Cousin. France
6. Ina Steffensen. Denmark
7. Hillary Williams. USA
8. Luanna Alzuguir. Brazil
After a disappointing Mundials performance from Kyra Gracie, it is interesting to see how she will perform in this no-gi event. No doubt the competition will be very strong and from the number of countries represented, a very international event. Women's grappling, like women's mixed martial arts, has a long road to go yet before it can reach any decent level of popularity compared to the men's events. Perhaps women's Judo is quite close to men's Judo. Carano vs Cyborg headline fight was the first step in MMA.
For me I think that women's grappling may be even more exciting than bjj gi championships for example. Gi fights are of course much slower and the men's fights really show more varied technique and speed. Too many women's fights that I have seen were about passing the guard for more than half of the match with little success. Whether it is stalling, lower level of technique or muscle strength, I really don't know but I envision that from a spectator point of view, no-gi matches may become a more exciting event.